Ethereum
Inwestując w wirtualną walutę, musisz najpierw dowiedzieć się jak najwięcej na jej temat. Zapewniamy recenzje każdej z najlepszych kryptowalut na świecie, abyś mógł znaleźć najlepsze kryptowaluty do robienia inwestycji. Poniżej przedstawiamy recenzję kryptowaluty ETH i jak kupić Ethereum.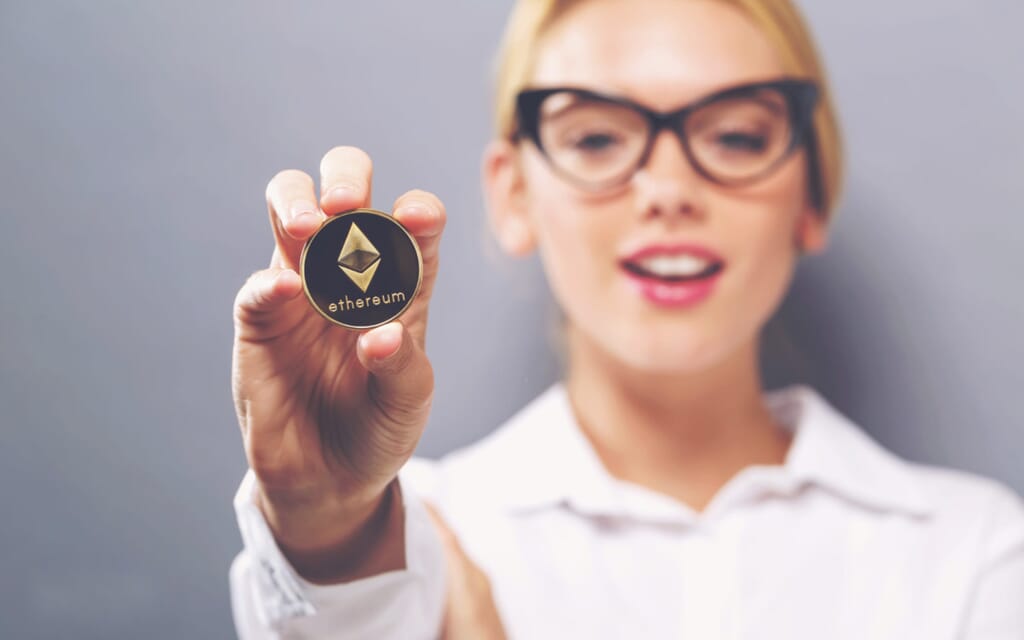 Aktualna cena Ethereum na żywo
Gdzie kupić Etherium?
Możesz kupić ethereum na giełdzie lub kantorach kryptowalut za pomocą kart bankowych, e-portfeli i przelewu bankowego. "Ether" można kupić za złotówki, ruble, hrywny, euro, dolary lub inną walutę fiducjarną – pełną listę należy sprawdzić na stronie konkretnego sprzedawcy. W momencie zakupu musisz podać numer swojego portfela kryptowalut. Po zakończeniu transakcji zobaczysz w nim walutę "ether". Ponieważ jest to operacja blockchain, transakcja może zająć trochę czasu.
Firma
Właściwości
Dodatkowe informacje
Szczegóły
Rok założenia: 2007
Język polski: TAK
Waluty FIAT
Platformy: eToro, WebTrader
Ochrona przed ujemnym saldem
Waluty rachunków: USD
Kryptowaluty
Trading społecznościowy
Regulowany przez FCA
Ponad 500 instrumentów
Dźwignia: max 1:30 klient detaliczny
Platformy eToro, WebTrader
Zakup krypto za PLN (przy użyciu karty płatniczej)
DOGE (Dogecoin) 
68% detalicznych rachunków CFD traci pieniądze
Rok założenia: 2018
Język polski: TAK
Waluty FIAT
Kryptowaluty
Handluj najbardziej zmiennymi walutami cyfrowymi: Bitcoinem, Ethereum, Litecoin, Ripple, itd.
Zaawansowana wersija mobilna
24/7 Usługa i wsparcie
Instrumenty handlowe: Forex i CRYPTO, akcje, indeksy, towary
DŹWIGNIA DO 400X
Rok założenia: 2017
Język polski: TAK
Waluty FIAT
Kryptowaluty
Około 150, w tym: BTC, ETH itp.
Brak potrzeby weryfikacji konta
Darmowe wpłaty
Zakup krypto za PLN (przy użyciu karty płatniczej)
Co to jest Ethereum?
Jest to platforma typu "zrób-to-sam" do tworzenia blockchainów. Platforma Ethereum jest warstwą bazową, a ponadto możesz tworzyć różne tokeny do uruchamiania zdecentralizowanych aplikacji (zwanych również Dapps).
Ethereum można wykorzystać do zdecentralizowania niemal wszystkiego: głosowania, nazw domen, giełd finansowych, finansowania społecznościowego, zarządzania firmą, umów większości rodzajów, przekazywania własności intelektualnej.
Co to jest ether?
Ether to waluta platformy Ethereum. Posiadanie Etheru jest wymagane dla każdego, kto chce budować na platformie Ethereum lub korzystać z niej. Podobnie jak Bitcoin, Ether można kupować i sprzedawać w sieci, a także wydobywać go. Większość ludzi używa terminu Ethereum w odniesieniu do waluty zamiast Ether i dlatego mogą powstać niektóre nieścisłości w terminologii.
O całkowitej podaży etheru i tempie jego emisji zadecydowała darowizna zebrana podczas przedsprzedaży owej waluty w 2014 roku. Wyniki były z grubsza takie:
60 milionów stworzonych Etherów trafiło do kontrybutorów przedsprzedaży;
12 milionów (20% z powyższego) zostało przekazanych funduszowi rozwojowemu, z czego większość trafiła do wczesnych współpracowników i programistów, a pozostała część do Fundacji Ethereum;
2-3 ethery są czasami wysyłane do jakiegoś "górnika", jeśli on również był w stanie znaleźć rozwiązanie, ale jego blok nie został uwzględniony (tzw. nagroda wujka / cioci).
Założyciele Ethereum twierdzą, że Ether nie jest walutą, ale raczej "krypto-paliwem", co oznacza, że ​​jest to token, który ma jedno główne zastosowanie – dokonanie opłat na platformie Ethereum.
Kupno Ethereum to zakup "etheru", kryptowaluty używanej w blockchain Ethereum.
Ether jest narzędziem inwestycyjnym — wielkość jego kapitalizacji jest na drugim miejscu po bitcoinie, pod względem ceny ta kryptowaluta również jest w czołówce. Ponadto Ether jest wymagany do zakupu tokenów ICO, które są przechowywane w inteligentnych kontraktach platformy blockchain Ethereum.
Algorytm kupowania "etheru":
Krok 1. Wybór i otwarcie portfela
Krok 2. Wybór giełdy
Krok 3. Zakup "Ether"
Aktualna cena ETH/PLN wykres
Portfel do przechowywania ETH
Do przechowywania ether wymagany jest portfel kryptowalut. Zaleca się korzystanie z portfela MIST i Ethereum, który można pobrać z oficjalnej strony Ethereum.org. Są to portfele na komputery stacjonarne, czyli do działania wymagają dużej ilości miejsca na dysku twardym komputera – pobierany jest do niego cały plik blockchain.
Inną opcją jest "lekki" portfel My Ether Wallet, który również posiada wersję przeglądarkową. Istotą portfela jest to, że nie musisz pobierać całego pliku blockchain, aby go używać – potrzebujesz tylko bloków wymaganych do swoich transakcji.
Istnieją również portfele wielowalutowe, takie jak Exodus, Jaxx czy Metamask (portfel w przeglądarce). Powinny one być używane, jeśli twoje zainteresowania nie ograniczają się tylko do inwestycji w ether lub ICO.
Najprostsze, ale też niebezpieczne portfele to portfele internetowe (Blockchain.info, Cryptonator) lub portfele połączone z kontami na giełdach kryptowalut (Coinbase). Wszystkie informacje chroniące te portfele (przede wszystkim klucz prywatny) nie są przechowywane przez właściciela portfela, ale na serwerze samej witryny. To sprawia, że ​​jest on atrakcyjnym celem dla hakerów, dlatego giełdy są nieustannie atakowane.
Po pobraniu, zainstalowaniu portfela i rejestracji w systemie otrzymasz numer portfela, a także klucz publiczny i klucz prywatny. Klucz publiczny to plik z informacjami o wszystkich transakcjach z portfelem. Te informacje są dostępne dla wszystkich użytkowników łańcucha bloków. Klucz prywatny to alfanumeryczny kod, który "otwiera" portfel i tylko Ty powinieneś go posiadać. Lepiej nie przechowywać tych danych na komputerze; zaleca się wydrukowanie lub zapisanie klucza na kartce papieru.
Najłatwiejszym sposobem zakupu Ethereum (tj. Ether) byłoby skorzystanie z jednej z popularnych giełd Ethereum, które są wymienione poniżej.
Jak kupić Ethereum przez:
Cex.io to giełda kryptowalut, która umożliwia kupowanie Ether za pomocą karty kredytowej. Jeśli korzystasz z usług maklerskich firmy (kupując bezpośrednio z giełdy), opłaty zostaną już wliczone do kursu wymiany, dlatego będzie on wydawał się wyższy niż na innych giełdach. Jeśli chcesz uzyskać lepsze stawki, spróbuj skorzystać z platformy handlowej tej witryny (przeznaczonej dla bardziej zaawansowanych użytkowników).
Otwórz CEX.io.
Wybierz metodę płatności (karta kredytowa lub konto bankowe) – WPŁAĆ ŚRODKI.
Przejdź do "Kup / Sprzedaj" i wybierz Ethereum.
Wybierz ilość Ethereum, którą chcesz kupić.
Kliknij "Kup Ethereum".

O ile interesujesz się Ethereum tylko ze względu na chęć spekulacji i nie musisz trzymać realnych monet ani wysyłać ich nikomu innemu, eToro jest prawdopodobnie najłatwiejszą i najtańszą opcją. Firma ta oferuje przyjazny i intuicyjny interfejs użytkownika, który pomaga kupować i sprzedawać Ethereum za walutę fiducjarną (USD, EUR itp.).
eToro jest mniej polecany do uzyskiwania dostępu do realnych monet i korzystania z nich ze względu na ich stosunkowo skomplikowany proces wypłaty. Tak więc, jeśli używasz eToro tylko do inwestycji, możesz pominąć krok 1 uzyskiwania portfela Ethereum, ponieważ nie będziesz używać zakupionych monet.

To wygodny i tani sposób na zakup Ethereum, a platforma jest dostępna dla użytkowników z ponad 100 krajów. Binance sprzedaje ETH z prowizją w wysokości 1,49% -3,99% w zależności od metody płatności (karty kredytowe mają wyższą opłatę niż przelewy bankowe). Oto jak kupić Ethereum na Binance:
Otwórz konto Binance.
Wybierz metodę płatności (karta kredytowa lub konto bankowe).
Przejdź do "Kup / Sprzedaj" i wybierz żądaną ilość Ethereum.
Kliknij "Kup Ethereum".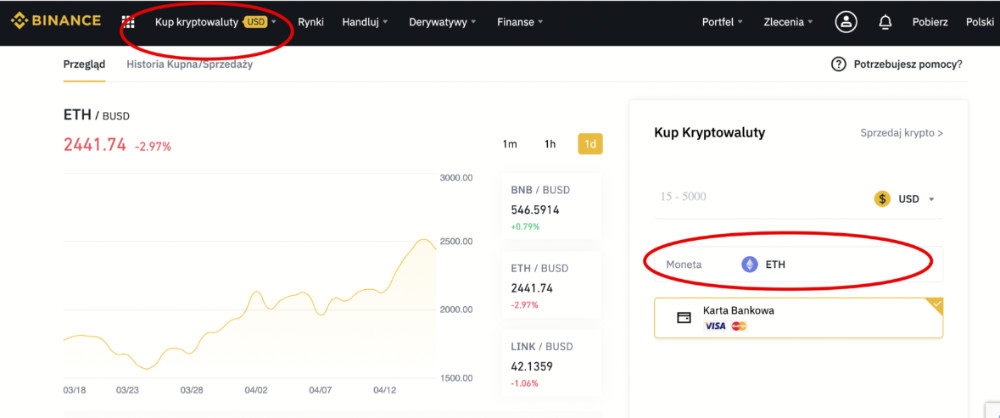 Bitpanda
Bitpanda to giełda kryptowalut specjalizująca się w kupowaniu i sprzedawaniu kryptowalut w strefie euro. Witryna ta ma dość intuicyjny interfejs do zakupu Ethereum i innych kryptowalut, a sam proces odbywa się stosunkowo szybko. Jedynym problemem jest to, że nie ma podanych wysokości opłat transakcyjnych i trzeba będzie obliczyć prowizję naliczoną na podstawie ceny końcowej.
Wypłata ether do swojego portfela
Po zakupie Ether pamiętaj, aby upewnić się, że monety znajdują się w Twoim osobistym portfelu. Jeśli zostawisz swoje monety na giełdzie, a giełda zostanie zhakowana lub stanie się niewypłacalna, możesz stracić swoje monety.
W tym celu musisz wysłać swoje monety na swój adres Ethereum. Adres to długi ciąg znaków i cyfr zaczynających się od 0x i wygląda mniej więcej tak: 0x123f681646d4a755815f9cb19e1acc8565a0c2ac. Możesz odzyskać swój adres ETH z portfela Ethereum.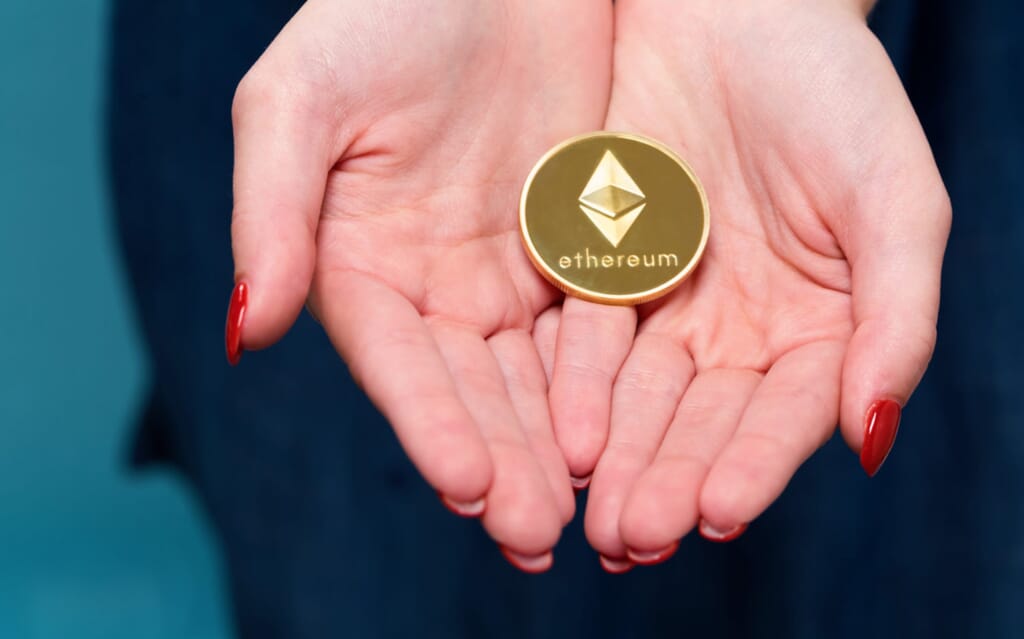 Jak kupić Ethereum przez kantor kryptowalut
Gdy portfel będzie gotowy do użycia, możesz kupić za jego pomocą Ethereum. Można to zrobić za pośrednictwem kantoru kryptowalut (lepiej wybrać zaufane witryny, takie jak Binance lub EXMO). Możesz wybrać optymalną i opłacalną cenę zakupu, korzystając ze specjalnych stron porównywarek oferty różnych wymienników, na przykład Bestchange.
Możesz także wydobywać Etherium (mining ETH)
Jeśli szukasz alternatywy dla zakupu Ethereum, możesz spróbować kopanie Ethereum. Korzystanie z własnego komputera do wydobywania prawdopodobnie nie zaprowadzi Cię zbyt daleko. Jeśli jednak masz GPU na swojej maszynie, możesz otrzymać z tego niezły zysk. Wydobywanie Ethereum jest podobne do wydobywania Bitcoinów pod wieloma względami, poza tym, że nie musisz kupować dedykowanego sprzętu, aby w nim uczestniczyć.
Wniosek
Ethereum to przełomowa technologia, która ma zmienić sposób działania Internetu. Czy to się powiedzie, czy nie, okaże się później, ale na razie możesz łatwo wziąć udział w tworzeniu "przyszłości Internetu", wykonując czynności wymienione powyżej.
Wraz ze wzrostem popularności Ethereum, jego waluta, Ether, wydaje się nabierać rozpędu i zyskiwać na wartości. Jednak podobnie do innych kryptowalut jest to rodzaj bardzo ryzykownej inwestycji i wszystko może się zmienić w mgnieniu oka (np. kolosalny spadek cen Ethereum w 2018 roku).
Jeśli chcesz dowiedzieć się więcej o Ethereum, możesz skorzystać z różnych kanałów w sieciach społecznościowych poświęconych tej platformie i jej kryptowalucie.
Ethereum
FAQ Kryptowaluty
Kryptowaluty co to i jak to się wszystko zaczęło?
3 stycznia 2009 roku Satoshi Nakamoto (być może pod tym pseudonimem kryje się pewna grupa osób) zakończył prace nad kodem programu bitcoina - pierwszej kryptowaluty. Tego dnia został wygenerowany pierwszy blok i wydobyto pierwsze 50 bitcoinów. W ten sposób świat dowiedział się o technologii blockchain, która jest obecnie stosowana daleko poza cyfrowym pieniądzem.
Ile kryptowalut jest teraz?
Obecnie istnieje już ponad 2000 różnych typów kryptowaluty. Jednak twoi przyjaciele najprawdopodobniej mówią tylko o 10-20 - najlepszych pod względem kapitalizacji.
Jak ludzie zarabiają cyfrowe kryptowaluty?
Kryptowaluta może okazać się na twoim koncie w kilka sposobów. Głównym z nich jest wydobycie kryptowaluty, czyli otrzymanie nagrody za połączenie transakcji w bloki i obliczenie wymaganego klucza do uszczelnienia bloku. Możesz to zrobić na własnym sprzęcie, możesz skorzystać z cudzego sprzętu, który jest wynajmowany i może znajdować się nawet na innym kontynencie. Ten rodzaj wydobycia kryptowaluty nazywa się wydobywaniem w chmurze. Większość istniejących walut można wydobywać.
Co to jest giełda kryptowalut?
Porządna kryptowaluta, której w sieci pojawiła się wystarczająca liczba, ale po niekorzystnym kursie (zwykle + 7-10% w stosunku do oficjalnej) i jej zakup jest inną opcją na giełdzie. Jednak zarabianie kryptowaluty na platformie handlowej nie jest zbyt łatwe, będziesz musiał przynajmniej przejść proces weryfikacji tożsamości, czyli przesłać paszport, zezwolenie na pobyt i inne dane osobowe.
Czy można zdobyć kryptowaluty i nie wydawać prawdziwych pieniędzy?
Istnieje inny sposób na zdobycie monet i zarabianie kryptowaluty - nie wiąże się to z żadnymi kosztami materiałowymi, ale zajmie dużo czasu. Jest to wyszukiwanie różnych "kranów", zrzutów lotniczych - innymi słowy, bezpłatnych wysyłek różnych kryptowalut. Istnieje wiele opcji, od grania na automatach po zarządzanie projektami w mediach społecznościowych w wybranym języku. Wciąż darmowe kryptowaluty można zdobyć w wyniku hard forka - podzielenia oryginalnego łańcucha walutowego na dwa nowe.
Jak zarabiać na kryptowalutach?
Teraz kryptowaluta pozwala na sobie naprawdę dobrze zarabiać, ale musisz być przygotowany na to, że możesz stracić wszystkie pieniądze w jednej chwili. Jeśli nie bierzesz pod uwagę górnictwa, w którym złożoność sieci stale się zmienia, o czym mówiliśmy powyżej, są jeszcze dwa sposoby zarabiania kryptowaluty. Wybór między wszystkimi opcjami jest złożony i zależy od konkretnego momentu.
Co to jest handel pieniędzmi cyfrowymi?
Pierwszy to handel, czyli handel kryptowalutami, można tutaj skupić się albo na analizie technicznej wykresów wzrostu (nie zawsze to pomaga), albo na insiderach, a nie tylko informacjach o konkretnym projekcie. Z reguły ważne wiadomości zawsze wpływają na przebieg kryptowaluty. Inną strategią jest trzymanie kryptowaluty, jest również nazywany "trzymaj" lub "hodle". To tak proste, jak to tylko możliwe - kupuj monety i zapomnij o nich na długo w nadziei, że kurs znacząco wzrośnie.
Czy można inaczej zarabiać?
Drugi to udział w ICO, czyli wstępne rozmieszczenie tokenów. To jak crowdfunding, w którym startup zbiera pieniądze, aby wprowadzić swój produkt. Inwestycje w ICO są bardzo ryzykowne, ponieważ wiele projektów albo bankrutuje, albo po prostu zbiera pieniądze i przestaje istnieć, ale jeśli się powiedzie, mogą przynieść bardzo wysokie zyski.
Czy istnieje sprawdzona metoda, która na pewno przyniesie dochód?
Czołowi analitycy i biznesmeni spierają się o to, jak inwestować w kryptowalutę. Ktoś myśli, że kryptowaluta cyfrowa to piramida, bańka, wielkie oszustwo, inni przewidują wzrost kursu bitcoinów do $100000 w 2022 roku. W każdym razie, jeśli masz zamiar zanurzyć się w tym świecie, musisz śledzić wszystkie wiadomości branżowe i bardziej szczegółowo rozumieć wszystkie procesy. Na pewno Ci w tym pomożemy.